Teaching history with a hands-on approach has been an effective way to teach my kids over the years. Recently we've been using Timeline Trio from Home School in the Woods. It gives students a visual and concrete way to view all of history in one place. As a member of the Homeschool Review Crew I received this full set to use with my children and we have been impressed!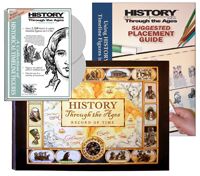 What's included? The Timeline Trio comes complete with:
A beautiful 3-ring binder (9″x12″) ready for filling. A set of cardstock pages, pre-printed with dates 5000 BC to 2025 AD plus maps (ancient & modern)
A collection of figures on CD
Suggested Placement Guide
CD1 includes figures for historical figures and events. It's easy to load them onto your computer and print out a page full of characters you are studying or a time period you may be covering. You can choose from 4 different options for your images – small image with description, small image with no description (for the History through The Ages binder) and wall-sized images with description or without description.
Also included on this CD are lists of all available images and bonus images. This makes lesson planning easy. I can scan through to find any images that coordinate with our studies, print and have ready to include in our lessons.
The second CD includes all the images in a format that allows you more versatility. You can use these images in your documents and projects, changing the size and shape to suit your needs. I have not needed these at this point, but I do have ideas about how to use them in future projects (folder covers, art projects, etc.)
How do we use it? Our family chose to make one timeline book as a reference and keepsake, recording all the people and events in history we study together. At the end of each week we glance through our lessons and through the supplemental placement guide for things to add to our timeline. Sometimes we cut and paste and return later to discuss more. Sometimes I have the kids color, cut and paste and we all review together what we've learned before placing them on the appropriate spot on the timeline.
There are times when one child learns about something on their own and adds in a character themselves. That adds a new dimension to our timeline because they might find new and interesting facts as they add entries later on. Or get the opportunity to teach their siblings (or mom and dad) a few things.  As we learn from Bible lessons, unit studies, text books, etc. more information is documented in our timeline. There is plenty of space to add notes and observations with pre-printed entries. A little journaling makes the timeline our very own with our own personal style.
A timeline can easily be created by/for each child. That way they can each build their own timeline over the years, with details they study as they study them – their very own chronicle of history! Our family adds in real life family members, which turns our timeline into a family tree as well. Another favorite (and important) lesson we've learned is how church history fits in among their family history and the history of their school books. Home School in the Woods makes these tools available as a set or individually so you can build your timeline in a way that suits your family best.
This past year we've absorbed a lot of history in our homeschool. Field trips have included visiting sites that bring American Revolution to life. We use the timeline to document the people, events and places we've learned about by adding in the appropriate figures and notes.
It helps keep names and dates and places in our minds, helps with memorization. The children learn about A.D. and B.C. and what that means, they get an understanding about that abstract concept of how the dates before 1 A.D. actually count backwards. While we've created other timelines in the past, we first used a timeline from Home School in the Woods when we studied the Middle Ages with their Project Passport. We find their resources easy to use, thorough and fun, too.
Home School in the Woods offers many different options for your hands-on learning needs. Their Activities Paks and Lap Paks are great! I'm excited to hear about a brand new option they are offering – A La Carte Projects.  I'm a mix-n-match sort of mom. Over the years I've had a lot of fun pulling together different resources and mixing things up when it comes to how we study things. With A La Carte you can choose from occasional games, mini timelines, creative writing newspapers, as well as some miscellaneous items to help with whatever you might be planning in your homeschool. Pop over and take a look – if you choose to purchase, be sure to use the code alacarte at checkout and get the Erie Canal project for free. (It's the 200th anniversary of the beginning of the canal this week!)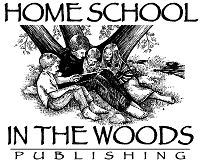 FACEBOOK  TWITTER  PINTEREST   GOOGLE+   YOUTUBE
See how others are using the Timeline Trio from Home School in the Woods and many of their other products – just click on the image below to find reviews from my fellow Homeschool Review Crew bloggers.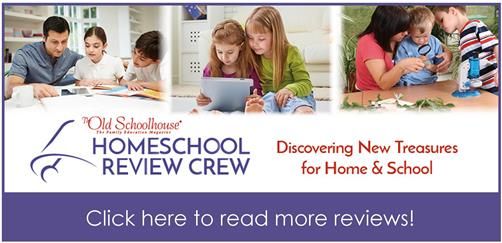 Save
Save
Save
Save