Hands-on learning has been a favorite way to learn in our  home school over the years. Digging into a topic or theme with a variety of activities and resources is a fun and effective way to teach and to learn. I'm a self-proclaimed "Unit Study Mom" and so when given the chance to use the hands-on history program called HISTORY Through the Ages Project Passport World History Study: Middle Ages from Home School in the Woods I jumped on it.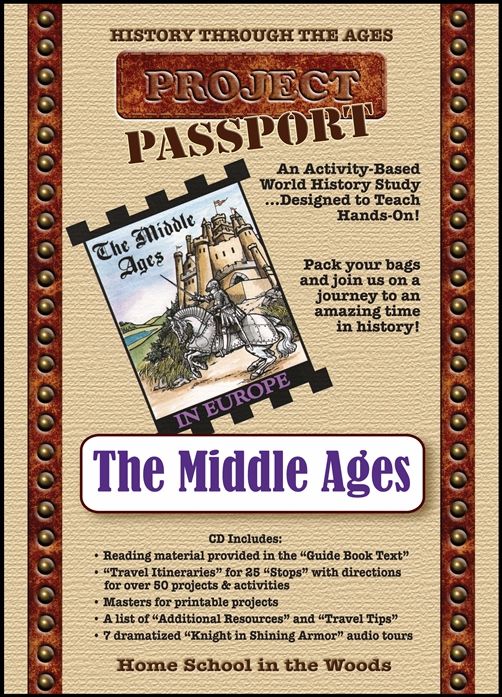 What kid wouldn't love to walk among Lords and Ladies, live in a castle, joust and feast? My 10- and 12-year olds thought it would be pretty cool to go back to those Medieval times and see how people really lived. It was easy to get started – our Passport to the Middle Ages arrived in my inbox as a zip file download. Once I saved and "unzipped" it, I found the folders organized nicely. After taking a few minutes to get familiar with it all, I went to work planning our upcoming lessons and trip to the Middle Ages!
Included in the curriculum files are instructions (Itineraries) for preparing each lesson (a.k.a. "Stops" on your journey), master copies of charts, maps, templates, etc. as well as mp3 downloads for the audio tours (loved having our own tour guide!) and and text for the teacher to use while leading the lessons. You'll be guided through setting up a timeline and creating a scrapbook or lapbook (if you wish.) Also included are detailed lists of supplies for each "Stop" and project and a recommended resources list to help you 'flesh out' your lessons, depending on your child's age and interests.
HISTORY through the Ages is designed to last 8-12 weeks, depending on how in-depth you want to go and how many days a week you work on lessons. I can easily see our family stretching it into a full year of study with extra research and writing assignments.
What we loved:
Access to everything – pdf files with images & printouts, mp3 audios, detailed instructions for projects, readings & resource lists, etc. You could use the computer as your manual, but I like having a paper copy of our lessons so I print everything out.
Our lessons sparked dinner conversation for the whole family. We've discussed lifestyles and economics, fashion and medicine, and so many other topics.
Lessons are customizeable – we could go into as much detail as we wanted. Some lessons drew my kids in more than others, so we spent extra time on those while skimming through the ones they were not as interested in. We chose to build a scale model of a castle (still in progress) but chose to read about the clothing of the times rather than making/sewing our own.
Variety. We were pleased to have the crafty-type projects balanced out with reading and writing assignments (like newspaper articles and notebooking pages.)
It encouraged togetherness. Three times a week we gather around the table, working and sharing and discussing the same topic all together. As I read a lesson they might be coloring and adding to their scrapbooks, or taking notes to be used on their notebook pages. As we listened to an audio story of life in a Medieval village they have been building a castle of their own.
Compatible with other curriculum. Any Project Passport World History Study would add a little something extra special to whatever textbooks or course of study you are currently using.
Highlights so far:
Castle Life. My kids want to live in a castle. With Scottish and German roots, I guess it's in their blood.
Having our own passports and travel papers. This has started their dream-machines running, imagining where they might like to travel in real life!
The timeline – as a family we are enjoying learning about people and places and events that influenced how we live today. Seeing these things lined up in chronological order gives a us a great visual tool that helps us see history and helps embed it better in our memories.
What we are looking forward to:
Completing the timeline. It's been exciting to see how people like Joan of Arc, Marco Polo, Roger Bacon and others fit into history.
Learning about occupations, and trying out some of the skills needed for them.
Reading out loud (and individually) recommendations from the resource list.
End of the Year Festival complete with a feast of fabulous foods, jousting, art exhibit and more!
Things I wish I'd done differently:
Print everything out before hand. I was so excited to get started, I skimmed through to see how the files and documents would be used, then jumped right in, printing the files needed for the first few lessons. I thought I would take time each weekend to prepare for the upcoming week, but now I wish I had printed everything at once so my weekly planning session focused more on actually implementing the lessons.
Prepare a teacher's binder. In my haste, I added my text pages to a pocket folder as I printed and used them. I often referred back to past lessons, so things got scrambled a bit. I recommend having a teacher's binder, with all the lesson text, trip itineraries, etc at the ready.
Cut and prepare the week's activities. I thought my kids would have more fun if they were given the chance to cut and paste and arrange the project pieces themselves. They thought so, too. This thrill was short lived, and took waaayyyyy more time than I had planned, so I am now doing some of that ahead of time. This makes it easy for the kids to get involved in the subject matter immediately. For younger children, These paper templates and projects are a huge hit, BUT the cutting can get tiresome so it's best to have a parent or older sibling have it ready for them ahead of time.
With this program, you get everything you need to create a Scrapbook filled with memories and souvenirs or a Lapbook showcasing your travels.  Digital copies of all the images and cutouts needed were provided with this program. If all the cutting and gluing and handwork is not your thing, Home School in the Woods units can easily be adapted to the learning & teaching styles of your family.
Older children can get plenty of reading material, listening material and research possibilities for their studies. Using HISTORY Through the Ages Project Passport World History Study: Middle Ages from Home School in the Woods all ages can work side by side or individually – a definite perk in a large family. It's interesting for adults as well as younger children. Everyone learns together!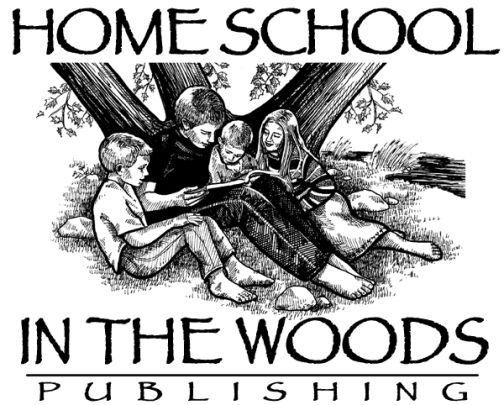 We just love traveling the world, learning how others have lived. Visiting the Middle Ages has been the field trip of a lifetime!  Now that we have our passports all set, we are considering traveling to Ancient Greece next year using their newest title HISTORY Through the Ages Project Passport World History Study: Ancient Greece. I'm told Home School in the Woods will have a Project Passport: Ancient Rome available in 2018 – now, wouldn't that be an amazing trip?
I'd love for you to visit my fellow
Homeschool Review Crew
Passport Projects. Just click on the image below to see how other families are using a variety of resources from Home School in the Woods.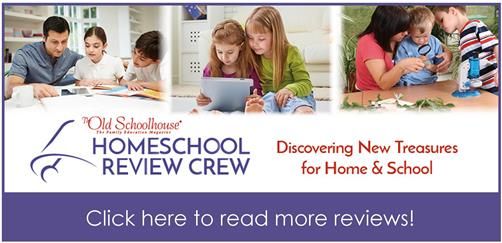 Save

Save
Save
Save
Save
Save
Save
Save
Save
Save
Save
Save
Save
Save
Save
Save