My husband has been telling me for years, "You need to do Latin with the kids." My response has been some variation of "Yeah, I should. I will. Someday. When I find the right one." You see, he taught a basic latin course to our oldest children, but I did not want to take the time to learn how to teach it. So I put it off. Until . . . I was chosen to review Latina Christiana Complete Set from Memoria Press.
When someone says it will arrive directly on your front doorstep and it will include everything you need, a homeschool mom does not say no. So I said, "Yes, please." And then said a little prayer and crossed my fingers hoping it would truly be what I wanted it to be. Before I tell you if this Latin curriculum met my expectations, let me answer a few of the questions I know you're asking (because I asked them, too.)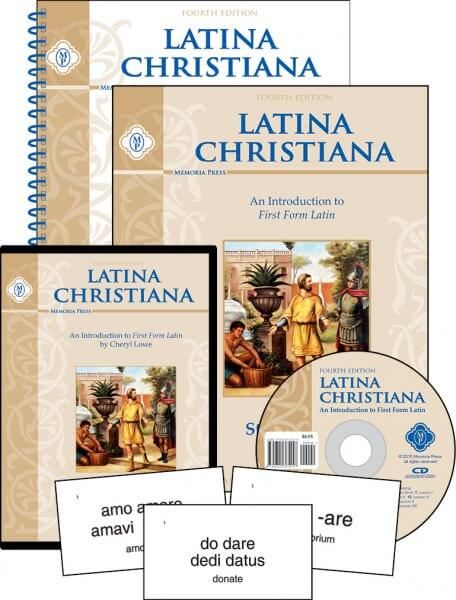 Why study Latin? Many languages (Spanish, French, Italian for example) have their roots in Latin. These language influenced the English language and so the study of Latin reinforces our grammar lessons. I know from my own experience when taking German in high school and college a person learns more about grammar and parts of speech than I ever thought possible. Recognizing Latin root words also helps with spelling and vocabulary.
What's included with this course? Everything you need is included in the Latina Christiana Complete Set. After ooohhing and aahhing over the contents, I spent a few minutes getting familiar with the Teacher's Manual and we were ready to get started. Our box of materials included:
Student Workbook (one was included with the set. Additional workbooks must be purchased for additional students)
Teacher's Manual, which included lesson plans, quizzes, tests and answer keys
Pronunciation CD
Instructional DVD's
Flashcards for vocabulary, Latin sayings, and grammar forms
How does it work? Latin seems intimidating. Is this course too difficult for homeschoolers? None of my students have studied Latin, other than some introduction into root words. I do not have experience in teaching Latin. We are pleased to tell you no experience is necessary! All four (ages 10, 12, 14, 16) are using this course. We watch the video portion together, speaking the vocabulary out loud. After that, the children work on their workbook page individually, then we compare and share with each other so we can all benefit from review and repetition. Over the next few days they use the flash cards to memorize the vocabulary and phrases for that (and previous) week's lesson.
With a bit of extra encouragement and patience the youngest is keeping up. The oldest two are are breezing through. It seems a perfect fit for my boy at age 12. Though I do not complete the worksheets myself, I am learning right along side them.
Designed to be a 5 day per week course, we easily adapted it to a 4-day week.  This course has a combined atmosphere of a formal classroom and private tutor sessions. There is a video portion with an instructor giving audio and visual cues as to how to speak the words and how to create the various verb forms.
Our family's homeschool model over the years has been more of a combination of hands-on and independent schooling, so the more formal classroom atmosphere of this video course was unusual for my children. Some days they were not very enthusiastic about sitting, listening and repeating out loud with the instructor. But we stuck with it and soon they sat down ready and willing to learn. I believe this was actually a good experience. They need to know how to learn in a variety of settings. This gave them opportunity to adjust to something different than they were used to.
Can this be incorporated into our other homeschool studies? Yes! Being a 'unit study' mom I was excited to see background history as a part of the 'extras' included in the teacher's manual. There is also an option to include ancient history studies with our Latina Christiana course. You'll find it on the Memoria Press website. It is taken from Chapters 1-13 of Famous Men of Rome. Drill questions and history test are included in Latina Christiana. Learning about the history and culture of Ancient Rome can bring this dead language to life for our students.
Are Memoria Press Latin courses a good fit for homeschool co-op settings? Yes! They are set up perfectly for group studies. The Teacher's Manual gives a variety of lesson plan options, offering suggestion for a co-op type set up. Each student will need his own workbook. With the video instruction and classroom time happening once a week, the students will be able to do their drill work and worksheets at home in between class sessions.
What did we like the most about this Latina Christiana? My kids most enjoyed finding the English derivitives of their Latin vocabulary words. It was like a treasure hunt to find words in our own language that came from Latin root words.  Our evening walks often became a rhythmic march as our two youngest  recite their verb declensions out loud. Who knew studying Latin could be so fun and entertaining?!
Latina Christiana is meeting our needs and expections as a Latin curriculum choice in our homeschool. Memoria Press has Latin programs for all ages and levels. You can begin in early elementary and go all the way into high school if you wish. My only regret is that we did not use this sooner!

  FACEBOOK  TWITTER  PINTEREST  INSTAGRAM  GOOGLE+   YouTUBE   LINKEDIN
Our Homeschool Review Crew is busy sharing their experiences using the Latin programs as well as Nature's Beautiful Order and The Book of Trees.  Click on the image below to read what they have to say.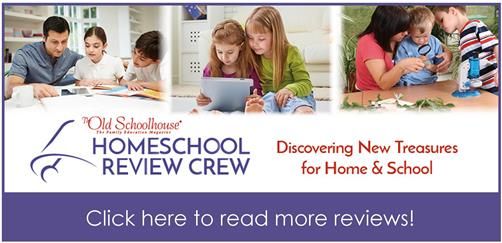 Save
Save
Save
Save
Save
Save
Save
Save
Save
Save
Save
Save