It's no secret that I love using straight forward, hands-on, no nonsense resources in our homeschool. The USA Activity Bundle offered by The Crafty Classroom is exactly that. We recently were given the opportunity to use and review the three pdf ebooks included in this bundle.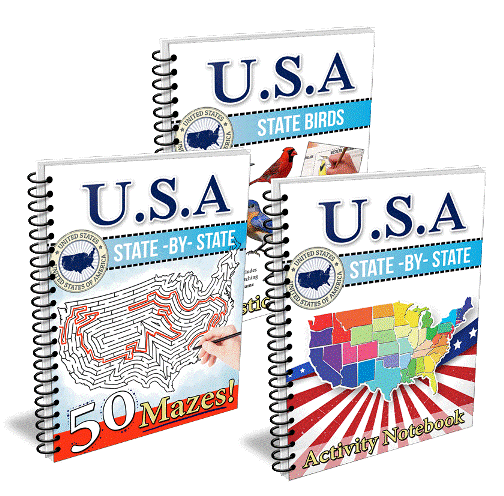 The U.S.A. State by State Activity Notebook includes pages for each of the 50 states with a place to color and record statistics such as the state flag, where it's located in the United States, capital, rivers & lakes, abbreviation, when it became a state, the nickname, state flower, and state bird. There is even room at the bottom for the student to make note of interesting facts and trivia.   These pages can easily be used to make a lap book or notebook page in your study of U.S. geography.
Also included in this 50 State Unit Study are fun ideas for making all the facts stick in our children's heads. Who doesn't love a game of BINGO or a homemade game where you can travel from state to state? These are not only educational, but a great option for family fun night, too.
The U.S.A. State Bird Art Cards is really a set of beautiful depictions of each state bird. Because many states share the same state bird, there are 27 (and not 50) illustrations included. They are detailed enough to give a the child a good idea of what the bird looks like in real life, and easy enough for them to color. I only have a black and white printer available, so my children compared their pages to the computer screen and encyclopedias to find the appropriate colors and markings. You can cut these out to use as flashcards or a matching game or glued into your lap book or notebook.
For a little more educational fun, the U.S.A. 50 State Mazes give us opportunity to use some critical thinking skills (finding the proper path) while getting more familiar with the shape of the states. This has proven to be a fun activity for all ages in our household. Next up will be a Friday night Challenge of the Mazes! We'll be printing out a state of choice for each of us, then, ready..set..go! Who can get to the end first?
We only needed a few extra materials in order to complete projects included in the U.S.A. Activity Bundle. A printer (color would be best but b&w worked just fine for us), pen and/or pencil, colored pencils, reference books such as encyclopedia or state/geography trivia books, and then for items needed to create a finished product if you wish (scissors, glue, notebook, folder, etc)  In order to play the games, you need manipulatives you can use as bingo markers as well as dice and game pieces.
This activity bundle can be used by a wide range of ages. As long as they can hold a pencil or crayon, there's something here they can use. We are adding in a state or two each week during our morning time, as a way to learn and drill and sharpen our knowledge of U.S. geography. When we are finished with all 50 states, we'll combine all USA Notebooking Pages into a lapbook/notebook we can take on the road with us when we travel. This is a great way to get them to jot down interesting experiences along the way.
We started out with facts and pages about the state we currently live in and the state we recently moved from. Now we are going through all the states we've visited or traveled through. That will cover more than half the states! The kids now have a bucket list of states to visit so they can say, "We were there!"

  FACEBOOK   TWITTER   PINTEREST   INSTAGRAM
The Crafty Classroom offers other resources for notebooking pages, such as the Alphabet Curriculum Notebook, Learn to R.E.A.D. Curriculum Notebook, How to Write a Paragraph and more. Many of my fellow Homeschool Review Crew mates are reviewing these products so be sure to check out their reviews by clicking below.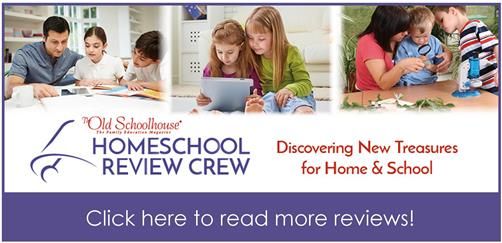 Save
Save
Save
Save