Something I discovered about myself after a couple years of homeschooling was that I LOVED History! Because we had been reading and listening to real, living books and resources like In the Reign of Terror, a historic novel originally written by G. A. Henty and now an audio drama from Heirloom Audio Productions. Growing up, history was boring. Dry facts about far away places and long-gone people I'd never meet. Resources like this set of CDs made it all come alive for me, and my children.
G.A. Henty was a prolific writer (more than 100 books published!) His books were written to grasp the attention of young people, sharing fact and history with a style that makes history come alive. The central figure of his stories was often a boy in his early teens who finds himself in the midst of an event worthy of shaping and changing history.
I first discovered these classics years ago when our oldest son was graduating from easy chapter books to more meaty material. It seemed many of the books and series I found were too girly or just had not depth. A friend recommended A Cat of Bubastes by G.A. Henty and we were hooked. It was challenging reading yet entertaining enough to keep him reading. Books by this author were added to our home library nearly every birthday or Christmas. I even scoured antique stores for early editions. We now have a whole section in our home library for Henty books.
When given the opportunity to experience a Henty novel through a dramatized audio cd we jumped at the chance. How thrilling to be able to hear actors such as Brian Blessed (Star Wars, Tarzan), John Rhys-Davies (Lord of the Rings, Indiana Jones), Cathy Sara (Downton Abbey) and others bring the characters and the story of the French Revolution to life right in our own living room!
First published in 1888, this story about a youth named Harry finds himself traveling from England to France. He stays with a family of nobility who's allegiance lies with the King in spite of the revolutionary atmosphere. They move from their country estate to Paris in the midst of the turmoil.
As the revolution and it's conflicts play out around them, the Marquis and his mother were taken into custody and Harry must take charge of this family's children. We walk through the adventure with Harry as he learns and grows from his experiences. The subject matter is rather intense, but handled beautifully by the writers and production crew. You'll have to listen in for yourself to find out what happens.
And there's more! Heirloom Audio now has a new website subscription service called  Live the Adventure Club. It is packed full of bonus material for each of the stories they produce. We have had a lot of fun exploring it and checking out the various resources and downloads. There's a lot there and we have not had time to dig into everything yet but what we've seen has been terrific.  Our favorite features so far have been:
The Original Soundtrack – my children are huge fans of movie soundtracks. This one by John Campbell is amazing! In fact, it's running in the background as I type this post.
The Official Script Download – though my children are often perceived as being on the quiet side, they really are a bunch of 'hams' deep down. They are planning to use the script for a little movie making assignment, and for some entertainment on the open road when travel.
Printable Poster – this beautiful piece of artwork is of the same caliber as you'd find for the latest box office hit at the movie theater. And a whole lot more inspirational!
The Original eBook – you can download or read online. With so many books available on our digital devices, it is so nice to have access to good quality literature. Now that we live in smaller quarters, I'm extremely happy to be able to add this to our library without taking up shelf space.
And there's so much more! One resource we've been using is the Study Guide that accompanies this production. It provides discussion questions to take the listening experience even further. Maximillion Robespierre, Marie Antoinette, For each track (or chapter) we went through:
The Listening Well – basically, these are comprehension questions. They relate directly to each chapter/track.
The Thinking Further – These activities and questions take you deeper, such as finding the cities and countries mentioned on a map. They offer the opportunity to delve deeper into the concepts and ideas presented. There are so many interesting things to learn and explore.
The Defining Words – Vocabulary from other cultures and other time periods can be difficult to understand but are so important to taking in the whole story. This section gives you some help in discussing these.
Expand Your Learning – This little section inserts bits of culture, facts and information unique to the time period, fashion, even recipes.
With the high quality CDs, the Study Guide and other educational resources, one historical novel can turn into a whole unit study and a grand adventure!
A final thought – There have been ongoing discussions in our home about citizenship and government and what our role as followers of Christ ought to be. Our study of scripture does not always bring us to agreement with what men and governments choose to believe about history. The production company has added some narrative to set the stage for the French Revolution and its historic impact. Our family's views and convictions may or may not agree with all they present, but keeping that in mind, we were pleased this audio production does stay true to the original story, but it does not make it a replacement for the book. I am one of those who'll more times than not say "the book is better!" but even though I highly recommend G.A. Henty books as they were published, this audio drama of In the Reign of Terror is excellent and entertaining and our family gives it 6 (or 12?) thumbs up!
To see what other Review Crew members are saying about this, click on the image below: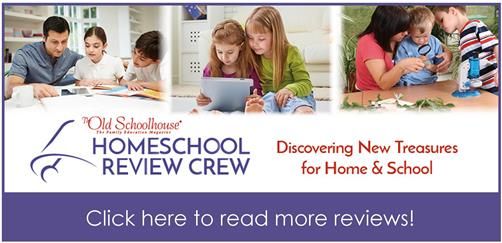 Save
Save
Save
Save
Save
Save
Save
Save
Save
Save