Over the years ours studies of history have focused heavily on long, long ago eras with only a quick peek at more recent historical events. Because of this I was very happy to get the chance to use and review An Overview of the 20th Century, a Lapbook and Study Guide from A Journey Through Learning Lapbooks.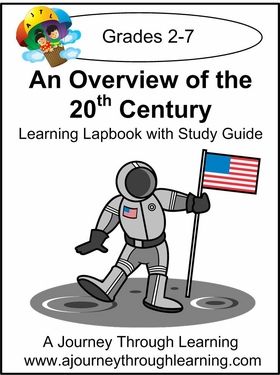 This digital download is  packed full with what you need to visit key events in the 20th century. Some of the events and peoples included are the Wright Brothers, Charles Lindbergh, World War I and World War II, the Great Depression and the Moon Landing. There are more – enough to fill three folders in our lapbook!
Each lesson includes an introduction/summary of a major event or person of influence, an activity of some sort and suggestions for additional research and study. These lessons can be stored and recorded either in a lapbook (full instructions are on their website, but you can get a peek at ours later in this post) or in a 3-ring binder (instructions for this also on the AJTL website.) It is all very user-friendly and easily adapted to your own family's needs and learning styles.
Because we received this during the summer months, we are using this set not as a full-out history course but as a supplement. The activities are listed in chronological order and we are moving from the beginning of the century on through to the later years. Each day as we gather I pull up the lesson page that coordinates with the next event in the study guide. Sometimes I read, we discuss and move on. Other times we pull out the encyclopedias or visit links and books recommended in the study guide. Each event also comes with a mini book or activity of some sort that can be completed, cut out and added to the lapbook we are building.
For the most part, my 6th grader is working the activities and building the lapbook, while all the children are joining me in discussion of the historical events and significance of each. It's a nice, low-pressure way of learning together. Since it provides hands-on activity, the things we learn tend to stick in our brains a bit better. Because we are using multiple forms of media and resources, we are all getting exposure in a way the best suits each of us. Win-win-win!
Airplanes to astronauts, the Roaring Twenties to the Cold War, Women's Suffrage to Civil Rights —  we are covering many topics that will influence my children's world view and outlook on life. I appreciate the way these things are presented and the way conversation has been opened between us. Isn't that what history is all about?
Our Lapbook all folded up, It's actually 3 file folders, folded and glued together, ready to store on the school shelf, handy for the next lesson.
Inside the front flap – early 1900's, we started out taking a look at people and inventions that shaped our future, like the Wright Brothers and Henry Ford
Opening up the layers of our lapbook reveals mini-books, informational pamphlets, activity sheets
Pulling out the lapbook pages, our mini-books and things are revealed. We've made it to the Great Depression and will continue through the decades of the 20th century, adding tidbits and interesting info as we go.
 FACEBOOK  TWITTER   GOOGLE+   INSTAGRAM
Using real, hands-on materials to reinforce our lessons has always been a good choice for our homeschool and our children. Even into adulthood those lessons are the ones they remember most. Lapbooks and Notebooking are easy, inexpensive and fun. A Journey Through Learning has many, many available for whatever curriculum your family uses.
My fellow Crew Mates are reviewing several products from AJTL. If you are a fan of Classical Conversations or use Apologia Elementary Science, or just lapbooks and notebooking in general, you'll want to see what others are saying. Just click on the image below: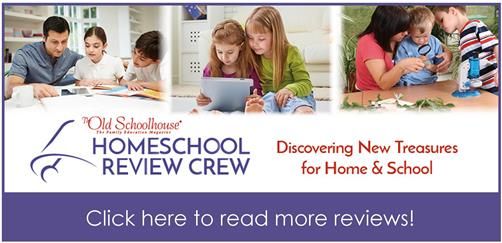 Save
Save
Save
Save
Save
Save
Save
Save