Cookbooks are like friends to me and I have fallen in love with a new friend! When Everyday Cooking by Vickie Bentley (from Everyday Homemaking) arrived in my mailbox (so I could write this review for you) I settled into my comfy reading chair and opened the pages.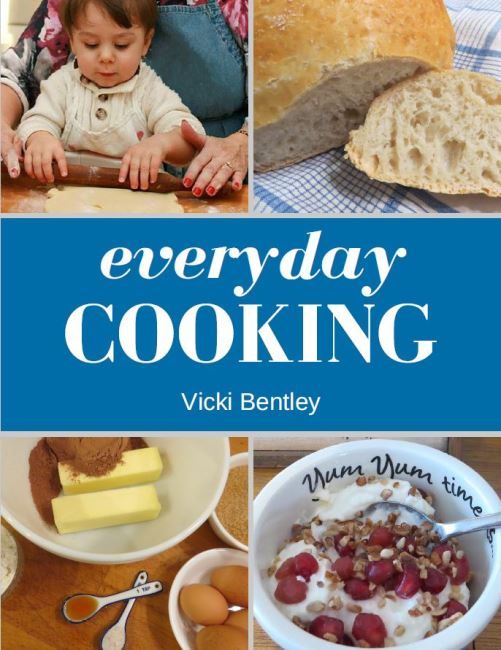 What a joy to find right from the start another mom who thinks the way I do when it comes to feeding my family. Vicki Bentley shares how it is important to choose healthy ingredients and foods, then gives us over 150  pages full of recipes that can be used and adapted while staying on budget with both our time and our money. Her tips and tricks won drew me right in. I knew it was for me. We must be Kindred Spirits.
This is a cookbook. But more. Throughout you'll find tips for making your job easier. Reading along, it was like visiting with a friend over coffee, talking about things like stocking up to feed the family when our days are busy, how will our kids ever learn how to cook for themselves, whether we use a pressure cooker or instant pot, which oils and sweeteners are the best choices ~ you know, all those important topics! I love all the highlighted boxes showcasing little nuggets of wisdom.
When we made our big cross-country move last year, I let go of several cookbooks. We now live in small quarters and I just don't have room for anything unless I use it. And so, our family went about putting the recipes in this book to the test. Even though I enjoyed reading through, in order to earn a permanent spot in my kitchen, it had to provide recipes that were 1-easy to fix, 2-fit my budget, 3-food we wanted to eat.
I asked each child to choose a recipe or two and then assigned them each to a day last month to fix a meal for the family. Can you say, "Home Ec?" (more on that in a bit)
My children were expected to read the recipe, take inventory of ingredients needed and put any we items we didn't have on the grocery shopping list. I also expected them to do the food prep and cooking on their own. I was available to answer questions and offer helpful tips, but I pretty much stayed back out of the way and let them do this on their own. The dishes they chose to make were:
1 – Fudge: My 11 year old daughter has a sweet tooth. No one was surprised when she chose candy right off the bat! I didn't mind, though, because this is school and I'm calling it 'Sweet Science' because she learned a lot about heat and reactions and consistencies and such. She did a good job following the recipe and instructions. Her final product was quite tasty – everyone was happy to test the samples.
2 – "Impossible" Meat Pie and Mandarin Spinach Salad: Anyone besides me remember the infamous 'Impossible Pie' recipes you could find on the back of a certain baking mix box way back in the 70's and 80's?  I laughed out loud when my 15 year old told me he had chosen this as his dinner recipe. The kids thought the name was pretty cool, and after explaining my own history with impossible pie, I gave the go-ahead.
He chose cooked hamburger and a variety of vegetables like carrots, celery and onion to make the 'pie' a hearty one since it was going to be our main dish. The recipe mentions you can use any type of meat, add any vegetables you'd like. Gabe commented on how it's a great dish to use up leftovers that are not enough for a whole meal or the whole family. Using basic ingredients we already had on hand, he baked up a delicious quiche-like dish that far surpasses anything I remember eating all those decades ago.
Gabe is veggie-eater-lover and so included a delicious, healthy salad to go with it. The Spinach Mandarin Salad was so quick and easy! He used baby spinach along with a few other greens, a can of mandarin oranges but when he discovered I had used some of his ingredients for another meal earlier in the week (oops! gotta watch that Mom!) he decided to add pecans and snow peas. Love that the recipe is versatile and that my son used some creative thinking and did not get discouraged. These two dishes paired very nicely together.
3 – Potato Soup: Even though we been having summer-y weather, everyone gave the potato soup a thumbs up. This basic recipe was actually very quick and quite easy. My daughter Bekah thought some grated cheese and fresh chives were just the thing to jazz it up a bit.
4 – Cheese-Garlic Biscuits: Along with the potato soup the kids baked these biscuits. We do love our biscuits around here, and these turned out great! Noah mixed and baked these all on his own and did an excellent job. Hot biscuits with butter – yum!
5 – Hamburger Stroganoff: This recipe was really fun. And tasty. And fast. And budget-friendly. The recipe called for a pound of hamburger, cooked & sauteed with the onion. I had cooked hamburger in the freezer, probably a pound and a half, so we used that instead. My family does like their sour cream, so we added more. I love using fresh mushrooms but didn't any on hand so we used a can from the pantry.
Noah found several partial boxes of various types of pasta in the cabinet so he combined them to make one large pot rather than opening another new box. See how easily these recipes can be adapted? What a thrill for my young chef to see it all served up at the dinner table.
Be sure to watch the video below to see how we made it. Noah is not only a chef, but a movie-make as well!
6 – Banana Bread: We have tried several recipes of this classic snack (or breakfast!) Many we have not enjoyed because they are too dry or too heavy or not banana-y enough. This recipe? Just right! The kids baked it in smaller bread pans, so they learned to cut down on the cooking time. We all enjoyed for snacks and breakfast, sometimes with a bit of butter or cream cheese.
Hamburger Stroganoff, Cooking Demonstration by Noah
If you've read through the commentaries of our test recipes above, you may have picked up on a few things. Things like, even cooking is an educational experience. The whole idea of Home Ec in school may be going by the wayside, but helping our children learn life skills such as cooking and housekeeping are very important. The author of this cookbook mentions she used these recipes and includes helpful pages she developed as she taught her own children (an others) how to prepare meals, choose healthy foods, etc.
I will definitely be adding Everyday Cooking to my list of resources for my children's high school electives. Whether you want to call it Home Ec, or Life Skills, or Culinary Arts, it's a smart thing to teach your children how to cook. Getting your teens ready for surviving their own is something we parents fret over. Why not give them opportunity to learn a few things in the kitchen? When our older sons left home, they both made an awesome omelet and wicked-good hamburgers. They knew how to make good food choices and how to prepare several dishes. I knew they could feed themselves or help feed their families when they left home. These are things I use to measure success. And Vicki Bentley's book is a huge help! She provides checklists and ideas about what they should know.
Meal Planning I've let go by the wayside of late. I just don't take time. I should. Unfortunately for my family, I fall back on my same-ol-same-ol dishes and find myself scrambling to get something on the table. Reading through the Menu Planning and Shopping Hints section of this book has motivated me once again to take a small amount of time to plan, which will make a big impact on our days.
Are you curious about what kitchen tools and appliances are best? Do you use a slow cooker, pressure cooker or Instant Pot. There are whole sections discussing these things, including recipes! There is a section showing Basic Measurements and a section full of Practical Tips. A little bit of everything!
One thing I'd like to see added would be a few cross-references. We did have to search a couple times for another recipe mentioned in the one we were following. For example, when my son made the Impossible Pie, it was mentioned to use 2 cups of the Baking Mix – he had to search to find it. The Stroganoff recipe mentioned using the homemade cream-of-whatever recipe, but we had to search for it. It would have been nice to have a page reference.
Everyday Cooking has earned a place in my small kitchen. It is quickly becoming a well used tool in my kitchen. If you stop by for a visit, I'll show you the stains that are already accumulating on its pages! We give the recipes and the information provided in the book a big thumbs up.
I do enjoy having a cookbook in my hands, on my counter as I prepare meals for my family. My children are showing the same tendencies. They are really enjoying this cookbook! We also have access to the digital version, which is terrific as well. I took a peek at The Everyday Family Chore System and it looks great too! I could have used that when my children were a bit younger. Hmmm, I just may adapt some of the ideas to things around here even with kids who are quite self-sufficient. That's what I love about Vicki Bentley's resources. They are adaptable.
See what my Review Crew Mates are saying about Everyday Homemaking recources and find out how they are using them in their homes. Just click on the image below: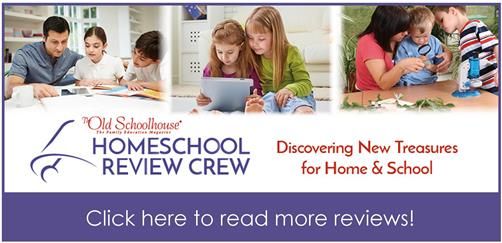 Save
Save
Save
Save
Save
Save
Save
Save
Save
Save
Save