Illuminating Literature: Characters in Crisis, written and published by Writing with Sharon Watson is a writing/literature curriculum for high school students in 9th – 12th grade. I was happy to get the chance to review this, having a 10th and 11th grader myself. It uses classic literature choices but is written from a Christian worldview.
This course is designed to be self-guided, with the student working through the 38 lessons with minimal supervision, although there is plenty of opportunity for interaction with parent/teach as well as evaluation in the quizzes and notebook entries.
The literature choices are well-known, classic writings. I was pleased to see the lessons are based on the full books (or stories) and not just excerpts. The student is able to experience the full context of what the authors wrote, rather than pulling out paragraphs or sections. The writings studied are:
A Jury of Her Peers by Susan Glaspell (text included in the student book)
Frankenstein by Mary Shelley
Silas Marner by George Eliot
Much Ado About Nothing by William Shakespeare
An Assortment of Short Stories (included in the student book)
Sense and Sensibility by Jane Austen
Biography or autobiography of student's choice
The Hobbit by J. R. R. Tolkien
As you can see, the selection of readings is quite varied – I am especially looking forward to Shakespeare's Much Ado about Nothing, but I think my student will be happy to get to The Hobbit!
There was minimal planning on my part. Sharon Watson gives recommendations for the editions of each book to be used with these lessons. I was able to quickly read through the teacher's book to get an idea of how the lessons flowed and skimmed the student text book to see what might be expected of my 10th grade son. The biggest task for me was to locate copies of the literature works. I highly recommend using the same editions she references, as it makes it easy for the student to turn to such and such a paragraph on such and such a page. The publications chosen are good, economical choices (you can see them and find where they are available on the website.)
I thought I would need to plan out lessons on our school plan sheets, but instead, my boy followed along through the lesson assignments, picking up each day where he left off. Each unit includes 6 lessons – 1) Before You Read, which includes suggested reading/homework plans and background information on story/style/author/etc. 2) Literary Terms, Context, Setting, Viewpoint and more. 3) Read (for the short stories, this does not take long, for the novels this lesson will take more than one class time.) 4) After You've Read the Story (student is asked to rate their opinion, make entries in their Novel Notebook, analyze characters, terms, viewpoint, dialog etc. 5) Quiz and Survey (online or in the Quiz Text like the one I received) and 6) Questions for Discussion and Activities (these activity suggestions offer options for further study in areas of research, history, creative endeavors, rewrites – many choices that will appeal to a variety of students and goals.)
Quizzes can be taken using the traditional method (pen/paper/physical book) or online – I am happy they included this option because many students perform better when they do not have to worry so much about the whole writing process. If you use the online quiz choice, there is a code given in the text that allows the student access.
I am grateful for the Quiz and Answer Manual. It provides everything needed to guide, correct and grade this as a full high school writing course. That makes my job easy, for sure! And sets us up to be able to easily add this to high school transcripts.
Along with the excellent literature choices included in the curriculum, my favorite tool is the downloadable Novel Notebook. Printing out these pages (or editing them in the pdf file) gives the student a place to brainstorm, share thoughts, apply what they are reading to their own life and circumstances. Writing out these sort of things definitely helps them process the story and characters, encouraging them to take it all to a deeper, more personal level.
The pages provided are easy to use and appealing to most every student. They are easy to understand and navigate and easy to personalize. There is plenty of lined space for the student's thoughts and reactions to the characters, plot, etc. It also gives the parent/teacher a good look at how well the child is understanding what they are studying.
In the last several weeks, Gabe has been able to work his way into the lessons on Frankenstein. It's all laid out in a logical fashion that makes it easy for him to move forward through the readings and the writing assignments. In order to earn the full high school course credit, we'll be asking him to complete at least a couple of the Activities suggested at the end of each book. I'm looking forward to seeing what he'll learn and share.

Does Illuminating Literature seem like a good fit for your high school student? You can download free sample chapters, grading grids, and quizzes on the course page HERE.

See what other Homeschool Review Crew members are saying about this terrific writing curriculum – just click on the image below!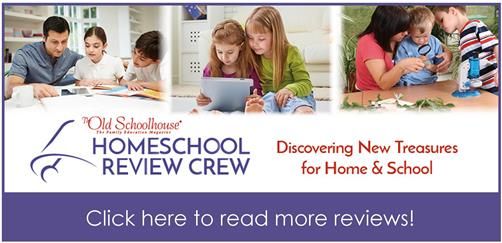 Save
Save