Anyone out there feeling overwhelmed at times in their role as homeschooling mom? Would you like to sit down talk it out with a fellow homeschool mom? Yeah, me too. Our school year has been kind of crazy. After making our big move to New England, getting used to living in small quarters, a home in town rather than a home in the country, we've been in a state of transition. I needed some help with my attitude and my focus. That is why I'm excited to tell you about Homeschool Rescue from Only Passionate Curiosity.
This online course is for homeschooling moms no matter how long they've been homeschooling, how many children they have or what their ages might be. It is designed specifically for moms (though Dad can most definitely be involved, too!) to help keep them from feeling overwhelmed or inadequate.  It is intended to encourage and uplift.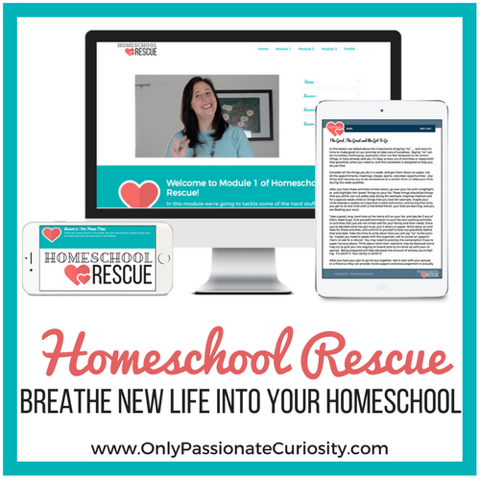 Heather, the creator of this course is a homeschool mom blogger, offering help and encouragement for every aspect of a homeschooling family's life. She has crafted the lessons based on her own experience and the experiences of other homeschool moms. The classes help you evaluate, focus, put a plan in place and work that plan. Although this is an online 'class' you are encouraged to work at your own pace.  I was very happy to be able to pause, rewind, re-visit lessons.
You'll find five modules with 3-5 lessons in each module covering a variety of topics , from making curriculum choices to household organization to dealing with children's behavior (and more.) Each includes  a slideshow lesson along with things like homework assignments to help you get the most out of the material she's covering, checklists and printables, resource lists for you and for your children.  I loved the 'Dig Deeper, Work It Out' portion at the end of her lessons. It was a call to action – requiring me to take a bit of time to absorb and process what I'd learned.
In my many years as a homeschool mom, I've often found myself lumping my kids into one big group. It's efficient to just herd everyone through the same program, schedule, etc. But it isn't always the best for each child. I appreciated Heather's recommendation to take time for each child – getting their feedback on what they like and don't like, what their dreams and goals might be. And also to evaluate their learning styles and overall progress in different subjects.
With this course, you'll receive:
a Printable 60 Day Course Plan to help you organize each day
video introductions and power point slide shows
checklists
chore charts
assignment sheets
planners
audio access
transcript downloads
access to private facebook group for further help and encouragement
and so much more!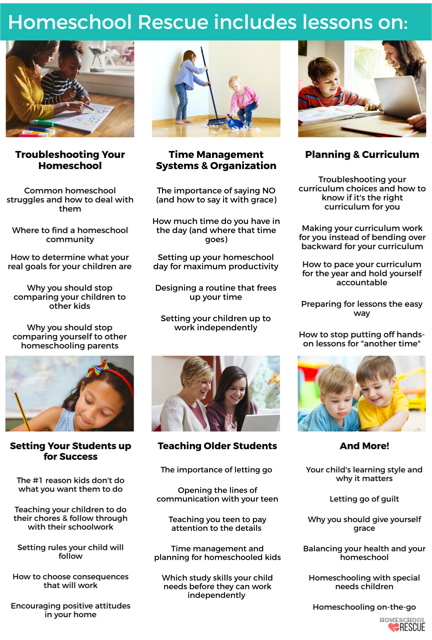 I picked up many ideas on how to improve things in our home and our schooling. I especially appreciated Heather's suggestions for dealing with homeschool burnout — how about an Independent Learning Day? She actually suggested I let the kids learn about whatever they want (for a day, anyway, or a season) – that just might motivate my kids!
In one lesson I was reminded that we all have good days and bad days with our kids. Crazy how I need to hear this over again, isn't it? But I do. And I will again in the future. It's nice to hear that I'm not the only one and that it's normal. In another lesson I was challenged to set down my phone, close my computer screen, stop multi-tasking for a time while I focus on our homeschooling tasks for the day. I really, really needed to hear this!
You'll also find topics like juggling babies & toddlers, teaching multiple children of multiple ages, how to tackle household chores, setting a daily routine. After the year we've had (moving away from family, a new job for my husband, travel, etc) I found this course to be some refreshment as I work to get back on track.
There are worksheets provided for "homework assignments" that are helpful – they give a place for brainstorming, goal-setting, etc. At first I was resistant. I mean, "homework" after all is what I give to my children, not what I want to be doing myself! But getting some things down on paper really was helpful. It helped me take a look at the big picture. What is it I really want my children to know by the time they graduate from our homeschool?
I was happy to hear a lesson about how to encourage independence in our children.  Heather's idea for a checklist and an idea list of things to do when mom is not available was spot-on. I was able to implement this when I was away from home for a week recently. The kids knew what they had to do to start their day and could get started even before Dad had to ask!
My favorite thing about this course? The quotes she shares throughout the lessons! Inspiring and encouraging quotes that are helpful in bringing home the point of her talk. I'm a very visual learner, I can still see those quotes in my mind as I recall things I picked up in the classes.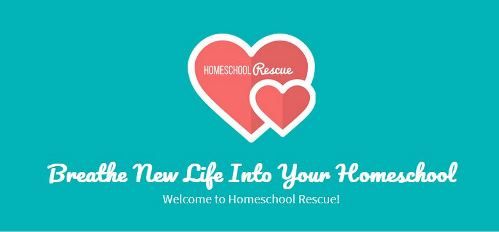 I may be a 'veteran' homeschool mom, but still I found benefit in working through Homeschool Rescue from Only Passionate Curiosity. Are you intrigued? This is a brand new course, available for the very first time. Homeschool Rescue is currently for sale through June 1, 2017.  The cost will be $97 for lifetime access (LOVE this!) and access to the Facebook group. There will be a VIP option for a slightly higher price with one-on-one coaching and support. The next "live class" will run June-July.  Do you want to jumpstart your next homeschool year? Or maybe you just need to get it all back on track? You can join Heather for a FREE Workshop May 17th or 18th 2017 to see what it's all about. (click HERE to register)
  FACEBOOK  TWITTER  PINTEREST  INSTAGRAM   GOOGLE+
See what others thought about this course and it's benefits by clicking on the image below: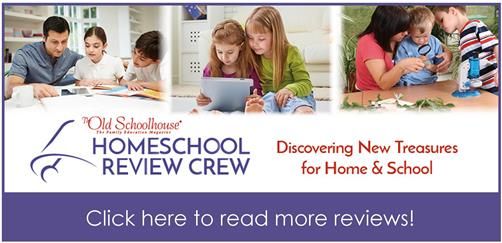 Save
Save
Save
Save
Save
Save
Save
Save
Save
Save