When tackling a new project it is helpful to have a plan and all the tools and supplies you need. That's exactly what we found in High School Essay Intensive  from Institute for Excellence in Writing. Because teaching writing is one of those things that intimidate homeschooling parents, I was happy to get the chance to review this course.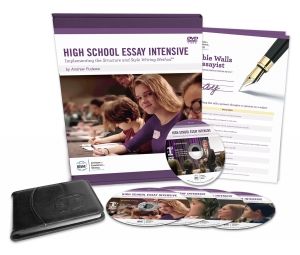 The set includes DVDs that cover these four sections:
General Strategies for Essay Writing
Understanding and Preparing for the New ACT Essay
Understanding and Preparing for the Redesigned SAT Essay
Strategies for the "personal essay"
Along with the DVDs we received a course outline which was very helpful. Our 14 year old son sat down and started right in. He was able to pace the lessons himself and find his place each time he sat down for the next lesson. Also included was a laminated folder that opens up displaying charts, lists and writing helps printed out on it. It is very practical, having the writing tools at your fingertips.
Our goals for using the High School Writing Intensive was for Gabe to be able to learn good strategies in essay writing, to understand the type of writing assignments that might be on the ACT test, and to get a feel for writing a "personal essay" such as those that are sometimes required when applying to a university. So far, he has worked through the first section (General Strategies for Essay Writing) and is now working through the second section on the ACT essay test. We expect he'll be taking this test before finishing high school and so we are particularly pleased he'll be receiving plenty of tips and practice, helping him build confidence before he has to take it.
The step-by-step approach (and the humor!) Mr. Pudewa uses when teaching how to build paragraphs really clicked with Gabe. He shows clearly how to use a variety of sentence types to build quality paragraphs, which produce quality essays. Knowing that writing assignments often are given in the form of "X number of pages, words, paragraphs, etc" this system makes good sense. Gabe says it's 'logical.' That's the first time I've heard that!
We will likely skip part three for now, since our son does not plan to take the SAT, but I am looking forward to seeing what he brings to the table in part four. I plan to sit down myself and write one as well!
The High School Writing Intensive is interesting and entertaining, but is definitely not just fluff. It may not a full-out high school English or creative writing course, but it does offer essential material that supplements and compliments them.  IEW courses are an excellent way to give students the writing skills they'll need for the future, no matter where their life path may lead.
Facebook:  https://www.facebook.com/excellenceinwriting
YouTube:  https://www.youtube.com/iewtv
Twitter:  https://twitter.com/iew  @IEW
Pinterest:  https://www.pinterest.com/iewriting/
See what my fellow Homeschool Review Crew members think of the High School Writing Intensive by clicking on the image below: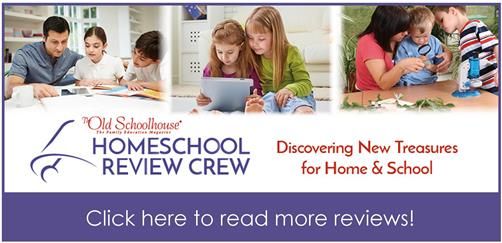 Save
Save
Save
Save
Save
Save
Save
Save