Recently I mentioned to some friends I would like to find stories about missionaries and other Christian heros we could read out loud as a family. Well, what do you know, soon after I found out members of the Homeschool Review Crew were going to be given the opportunity to receive and review a book from the Christian Heroes: Then & Now series published by YWAM Publishing. Providential, don't you think? After looking over the list we chose to read Corrie ten Boom: Keeper of the Angels' Den.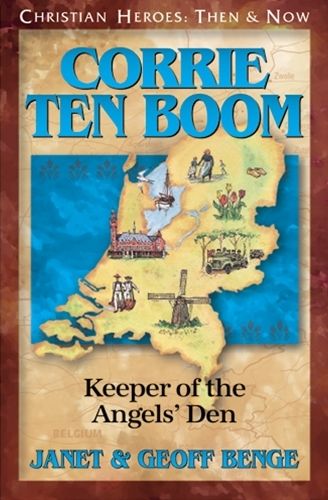 This book tells the real-life story of Corrie ten Boom and her family living in Holland during the years of Nazi occupation. The ten Booms were hard-working people with a committed faith to God and to one another. They lived above the clock repair shop they owned but found themselves involved with the underground helping Jews and others who were in danger of being arrested by the Germans.
Reading about this amazing woman, my children and I were challenged by the strong conviction she held, along with her father, sisters, brother and their families. We were impressed by how they could be so gracious, hospitable and merciful to those who asked them for help. We were intrigued by how cleverly they were able to have a tiny hiding place created between walls in their home full of nooks and crannies. It was eye-opening to read about the attention to detail and the plans that had to be made in case of a raid from the Gestapo.
It is not easy finding resources that deal with with all this in an honest and authentic way. I appreciate how it all was presented in a sensitive manner children of all ages can understand what life might have been like for those living through it. (These books are recommended for ages 10 and up.) The authors, Janet & Geoff Benge do an amazing job dealing with this intense subject and difficult time.
I read Corrie ten Boom: Keeper of the Angels' Den (that's the name she gave the hiding place) out loud to our children during our lunch hour. Lunchtime read-alouds have been a long-time habit of ours and the books in this series are a great reading choice. They are entertaining and challenging for all ages. They provide background that open the door for conversations about faith and adventure and peoples of different cultures.
To help our brains process the information we were soaking up, I printed the crossword puzzle available in the Bonus Section of the YWAM Publishing website. This was a great way to drill one another on facts and vocabulary, helping us better remember the details of Miss ten Boom's story.
YWAM has also made available Unit Studies (list sections and ideas) The pages come in a pdf format which can easily be printed and stored in a folder or binder. Better yet, take them to a nearby copy service and ask them to spiral bind the sheets for a more permanent option.
Within the unit study plan for Corrie ten Boom, there are activities and assignments for History, Geography, Essay Writing, Creative Writing, and more. Straight away I printed out the Review Questions for each chapter as a followup to our daily reading time. A list of outside resources for further study is also provided. I look forward to using these as a means of fleshing out a study on War World II.
We thoroughly enjoyed reading and learning about this remarkable woman. It has challenged us to think about how well prepared we would be able to handle adversity and traumatic experiences. Would our faith be enough to keep us going? This and all the books in the series would be terrific as readers in your homeschool or in the classroom. They could easily be adapted to a group setting such as a homeschool co-op as well. My kids and I give them a thumbs up!

And here's a bonus: We also received a copy of David Livingstone: Africa's Trailblazer from YWAM Publishing's Christian Heroes series. My boys sat down and read through, thoroughly enjoying it. They were amazed by the courage, perseverance and faith it took for this man to go the places he went and to accomplish what he did. There are a total of 46 books in this series – that's a lot of worthwhile reading! On our to-read list is Eric Liddell, George Muller, Gladys Aylward, Jim Elliot, Lottie Moon, Amy Carmichael.
FACEBOOK    TWITTER    PINTEREST     BLOG
You might also enjoy the biographies available in their Heroes of History series. There are selections about people who helped mold our history such as Christopher Columbus, Captain John Smith,  Ernest Shackleton, Laura Ingalls Wilder, Theodore Roosevelt and so many more.
See what other families are reading and how they use them in their homes by visiting my fellow Review Crew members – just click on the image below: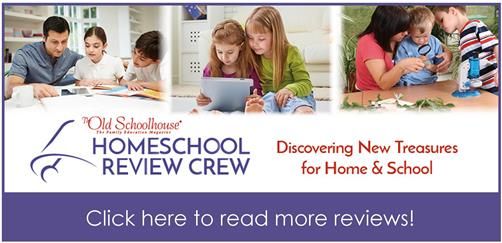 Save
Save
Save
Save
Save
Save
Save
Save
Save
Save
Save