It's been nearly twenty-six years since we began  educating our children at home and I still get excited when I find a resource like  SchoolhouseTeachers.com that makes learning more interesting and makes my job easier. As a member of the 2017 Homeschool Review Crew I was given the opportunity to review their Yearly Membership.

Looking for something to revive us mid-year, I jumped right in to see what types of courses might be offered. I'll be honest. I was not quite sure what I would be getting myself into. I tend toward the 'old-school' way of doing things and have shelves full of tried-and-true curriculum, but the idea of having everything we need at our fingertips yet won't take up space in our small home was appealing.
The variety of online, downloadable and printable courses offered in every age group and every grade is amazing! Not only can you cover the basics like math, history and science, you'll also find classes for creative writing, literature, Bible and more. The Online Electives were what most attracted my kids.
We have a 10 year old, 12 year old, 14 year old and 15 year old at home right now. I asked each of them to choose one course they'd like to take and I chose another for each of them to try. I also chose for all of us to slowly work through the health class together as a group. Over the past month, we've been using these classes:
Filmmaking
Creative Writing
Web Game Design
Church History
Apologetics: Creation vs. Evolution
Experience Videomaking
Violin (Beginners)
Daily Writing
Middle School Health
We found SchoolhouseTeachers.com to be very user friendly for both mom and children. The menu bar clearly laid out a path that worked for us. I watched several of the tutorial videos to learn about what was offered and how to go about finding classes for my kids. The kids easily navigated the 'BROWSE BY GRADE' and 'BROWSE BY SUBJECT' tabs themselves.
The 'QUICK LINKS' tab is probably the one I use most. It gives me a list of all courses and resources by name and I can easily read the course summary and information about the instructor or go straight to downloading lessons. The lessons can be any combination of printable worksheet, lists of web links, video lessons – depending on the subject matter, assignments and instructor. My children loved seeing pictures of the teachers (they are real people, real parents just like you and me!)
I was happy to see the long list of things available in the Just for Parents section. I am working through the Joy in the Morning daily devotions for moms. It's been a great way to start my day with a little Bible study, prayer and meditation as I have my morning coffee. A few of other features I'm checking out are the Menu Plan for the year,. Homeschool Planners, Helpful Homeschool Parent Support.
After 4 weeks of using the lessons in the courses they chose, we sat down and talked about what we liked about it all and what didn't work for us. I polled my gang, asking for a list of pros and cons for our experience so far using classes from SchoolhouseTeachers. The results were:
PROS:
Instructors did not spoon-feed the students, they let us figure things out on our own.
Instructors knew the subjects they were teaching. They were well-prepared.
It was fun to try things (like play the violin) to see if you really liked it.
Classes are self-paced and available for study when it suited our family's schedule.
Classes can be accessed on any device. Our family uses 2 desktop computers and 1 laptop, making it easy for multiple children to do different lessons at the same time.
Classes and worksheets are downloadable so if internet access is not always available you can plan ahead.
CONS:
Disappointment that a few classes listed were not currently available when we viewed them.
One set of lecture classes did not grab my child's attention.
One child found the material covered in a class more basic than expected.
You have to have internet connection. If you don't have a stable connection or travel without access to wi-fi you'd have to do a lot of planning and downloading ahead of time.
Our unanimous conclusion was a huge thumbs up! Having access to dozens of classes, resources such as planners, record keeping, and helpful articles is more than worth the subscription price. I will seriously consider keeping up our Yearly Membership with SchoolhouseTeachers throughout the rest of our homeschooling years.
They recently upgraded and redesigned their website and it's AWESOME! It has a beautiful new look, it's easier to use and has over 300+ classes and tutorial videos to help you get started.
Click the image below to see more reviews of the incredibly useful homeschooling resource. You'll be able to see how this helpful site works in other families and situations. Enjoy your visit with other members of the Homeschool Review Crew!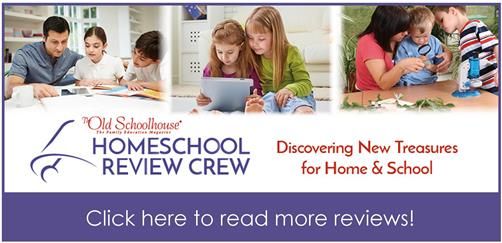 Save
Save
Save
Save
Save
Save
Save
Save