My kids and I have been having a lot of fun in the last few weeks using the clever, mess-free, tempera paint called Thin Stix Creativity Pack from The Pencil Grip, Inc. My daughter squealed when they arrived, quite happy we received a set for this review. We both like to color and create, so it didn't take us long to get to work. (at the end of this post you'll get the chance to win a set of your own so keep on reading!)
Thin Stix look like chunky markets, so that's what I was expecting when I uncapped the first one. Wrong I was! Packed inside each marker-type tube is a solid, creamy stick of tempera paint the rolls onto your paper (or wood or whatever surface you choose) easily and smoothly. The package includes a rainbow of colors which included 12 classic, 6 neon and 6 metallic.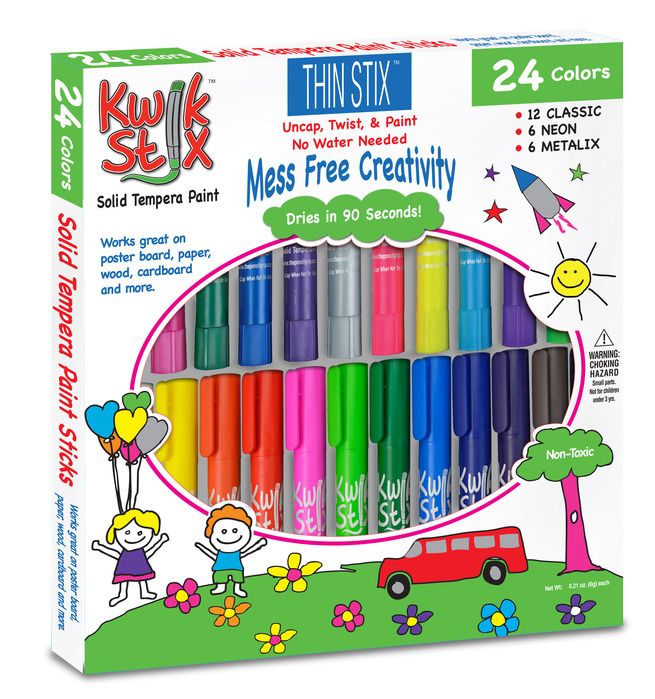 Over the years we've used tempera paints in our homeschool many times. I used to keep a supply in my craft room or with our school supplies, but honestly, those bottles mostly took up space and eventually dried up. (I threw away a dozen bottles last year when we made our big move!) So when I read these paint stix were not messy and would not dry up, I had to really put them to the test.
The cap is tight and secure but easy to take off and put back on. The paints are mostly mess free – there are no sloppy paint brushes to wash and no cups or plates full of paint that may spill. I confess I did get some smudges on my fingers, but mainly because my fingers got in the way when we were using our leaf templates. The color goes on bold and bright and if you leave it to dry for the 90 seconds (we found it took much less time) and you take care not to drag your hand or arm though the painted sections they really are pretty much mess free. Twisting the bottom of the stick pushes up additional paint and replacing the cap when it isn't in use keeps it moist and ready to use for a long time to come.
Some of the projects we've enjoyed making recently have been Autumn Leaves, painting of Sunflowers and an assortment of Large Blooms. My favorite project so far, though, has been our Thanksgiving Garland – This new twist on our long-time tradition of a Thanksgiving Tree is my favorite project so far.
Using a few sheets of printer paper in a variety of fall colors and fall-colored Thin Stix (the metalic green and gold were my favorite!) we 'smudged' color around the outside of leaves we collected for templates. We were able to fit 6 or 8 rubbings on each sheet. Then we rough-cut them out, creating a pile of Autumn leaves. Each day through the month of November we all write a Bible Verse or blessing or something we are thankful for on a leaf. That leaf is then added to the garland over the doorway. I'm looking forward to the end of the month when we can sit down and share our blessings with one another as we move from Thanksgiving season to Christmas season.
I can see Thin Stix being used for no mess kids art in your homeschool or Sunday School. They'd be great for making posters for your yard sale or fundraiser. I've suggested to my teen aged daughter that she might use them when babysitting as a fun activity to keep even young children occupied.
giveaway has ended
Now, who would like a chance to receive their own Thin Stix Creativity Pack from The Pencil Grip, Inc.? You can always purchase your own set but this week one of my readers will be chosen to receive a set of 24 just like I received. All you have to do is fill out this rafflecopter form and watch for the winner to be announced on Monday. (view my full giveaway disclosure HERE)
Be inspired by how how my fellow Review Crew Mates are using their paint sticks, just click on the image below: