It's hard to remember a day when my friend Debbie was not a part of my life. Our friendship spans more than three decades. OK, we've been friends for nearly four decades  – longer than some of you have been alive! It is such a blessing to have a special friend who knows who I am, where I've been and still sticks by me after all my ups and downs, highs and lows.
We first met in college, working on campus one summer. Our paths likely had crossed the year before as we both frequented similar party gatherings (ahem, we won't visit that topic today!) By summer's end the two of us once again found our paths crossing as we began studying our Bibles, attending Bible Studies, becoming Christians.
Fast forward a couple years Deb and I find ourselves marrying fellas who went to high school together, we both started having babies, raising a family. Then, way back when many had still never heard of homeschooling, we both found ourselves making the choice to educate our children at home.
Now our children are standing up at each other's weddings and we have grandbabies arriving and we get to bore them all with our tales 'Ancient History.' Life is fun!
In response to my plea for help with this
5 Days of Homeschooling series
, Debbie came through in a big way. She asked all 3 of her children to share what they liked best and what they disliked about being homeschooled all those years. They all complied and so today you'll get a perspective from children who were educated at home all 12 years as well as from their mother.
Things Older Son Liked Best:

Ability to learn and do work at own pace
Developed ability to self motivate
More opportunities to learn by doing rather than sitting in a classroom

Things Older Son Disliked:

Lack of opportunity to play school sports
Lack of instructor experience and qualifications for upper level subjects, i.e. Calculus, Physics, etc
Fewer opportunities for developing collaborative learning and problem solving skills as a team which are heavily required in the workforce as well as practice dealing with people with diverse personalities, viewpoints, beliefs and ethics

Things daughter liked best:

Taught me to be self-motivated and self-disciplined and cultivated my ability to be an independent learner and achiever.
Allowed me to learn as efficiently and effectively as possible by not having to accommodate the academic needs of an entire classroom and instead being able to use whatever level and style of curriculum in every individual subject that was best for me.
Free time and flexible schedule! Due in part to the efficiency of independent study and one-on-one instruction, homeschooling eliminates countless hours of classroom-style education, allowing for both creative and academic freedom to pursue specific areas of interest, go on field trips, and enjoy more life experiences.

Things daughter disliked:

1. Fewer sports and extracurricular opportunities.

2. I really can't think of anything else here!

Things younger son liked:

I'm a big reader, and being homeschool fostered my love of reading. I learned so much from being able to become absorbed in the material without having to worry about what was on a test. I remember books tied into the time period we were learning about, and really brought history to life. Some of my favorite memories are of my dad reading Carry On, Mr. Bowditch or Johnny Tremain in the evenings, and my sister and I telling him to keep going past the "assigned" reading.
I loved the freedom and challenge of working on my own to get my work done, especially as I got older. During middle school I began doing the majority of my shool work independently, though my sister helped me at times with any difficult things. I could work ahead one day and then not even have to do school the next day if I wanted.
This is a selfish one, but part of me loved being out and about during the day while public schoolers were cooped up in a classroom all day. There was so much flexibility being homeschooled, so many field trips and outings occurred with our friends or family.

Things younger son disliked:

When I was younger and my mom handled a lot of my subjects herself, it seemed like some days would take forever because she had other things she had to do, sometimes we'd get a late start. I just wanted to be done for the day, but we'd have to continue going until everything was done
I hated having to completely finish every textbook we had. It seems like most college and high school textbooks never get completely finished in a classroom. When I was homeschooled, we always finished every book, even if it meant going into the summer to finish a math book or some other textbook
Because of our state's high school sports rules, homeschoolers aren't allowed to play sports for a public school, and I always hated that. To this day it makes no sense to me that a family that pays taxes to the public school system isn't allowed to let their children play sports for a public school team. My parents had to spend money in order for me to play in different baseball leagues. As I got older it made it harder to be seen by colleges and experience post-season baseball games.

Things Mom loved:

Getting to spend such quality time with my kids. If they had gone to public school, I would have not had that time with them. I feel their hearts would have gotten stolen away from me.
Such a great feeling to know that I taught each of them to read! And how wonderful to see the light bulb go on for each one.
Read-aloud times were the best. Great memories with all of us together on the couch, even when the youngest was little and too young to "learn."

 Things Mom found challenging:

Starting out with the oldest, having the confidence that I could do it.
Learning about and deciding on curriculum.
Fitting it all in the school day.
Teaching to different learning styles, multiple kids.
Dealing w/ negativity about homeschooling (1980's were not as positive as things are now).
Deciding on and providing the right amount of the right kind of socialization.
Trying to determine and fill the "gaps" or perceived gaps.
High School years were the most challenging to meet all the needs— educational, spiritual, and emotional. Trying to prepare them adequately for college and adulthood.
To sum things up, Debbie says, "If I had to do it all over again, I would still homeschool, but do some of it differently, using the wisdom gained with the benefit of hindsight.  For a homeschooling mom, no matter what people may say, feel, and think—it really is a sacrifice. You sacrifice a HUGE piece of yourself to devote to your children for that length of time. 20+ years of your life! 20+ years of not pursuing other passions while your "peers" are pursuing theirs. It's definitely a labor of love. The danger comes when you realize you let so much of your identity be wrapped up in being a homeschool mom, that when you're done, you feel a bit empty and lost. Now what do you do? You have to discover yourself, the you that God made you from the beginning, but that you feel got put in a box and set aside. But I also realize that if God had shown me ALL that was ahead with homeschooling, I may have been overwhelmed and not chosen it."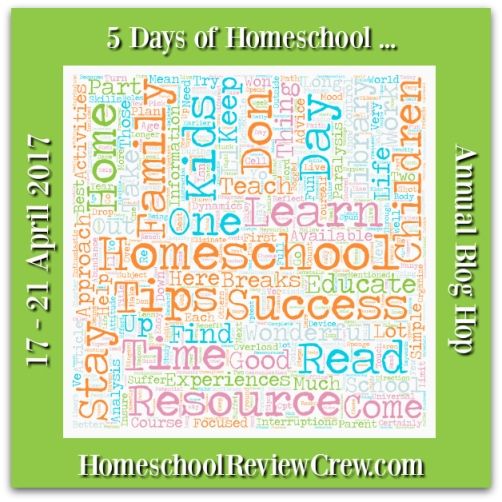 If you'd like to visit with more veteran homeschooling moms, check my intro post for a list of five in this series. You'll find more encouragement from homeschooling moms who are sharing their own 5 Days of Homeschool series below:



Save
Save
Save
Save
Save
Save
Save
Save