Memoria Press offers a high school level curriculum from a classical christian education point of view. Their Iliad & Odyssey Complete Set provides an excellent language arts option for high schoolers. While I am familiar with the classical philosophy of education, we have not closely followed this model for our homeschool, using a more eclectic approach instead. Still, there is benefit in taking time to study classic literature. I was very happy to receive the opportunity to use and review this incredible resource with my 9th and 10th grader this spring.
Imagine a young man who's father has been missing these last twenty years, since the ending of a horrific war. After all these years his mother is entertaining suitors and townsmen see him still as a youth and don't take him seriously. He is convinced his father is still alive, lost at sea. With visits and encouragement from the goddess Athene (who of course is appears in other forms) he sets out with the purpose of finding his father. Adventure, intrigue, romance – Homer weaves it all into an epic story.
Included in both the Iliad set and the Odyssey set are: a copy of the text itself, a coordinating student guide, a teacher's guide and DVDs that discuss the books.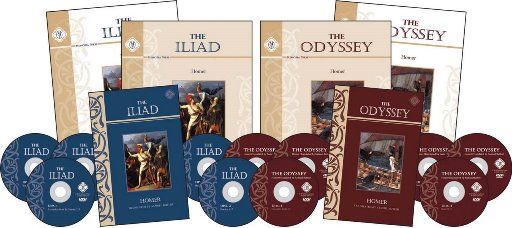 We chose to read and study through the Odyssey first. Chronologically, the Iliad actually comes first, taking place during the last year of the 20-year long Trojan War. My daughter studied Ancient Greece last year and was ready to move on from all the war details so we jumped into the story of the Odyssey which occurs following that war.
The Student Guides are consumable workbooks, intended to be used by your child as they read through each book. Because I have two children working through these, I ordered a second student guide for my son. It's well worth the money. The guide not only includes study questions and background information, it also includes things like weaponry & armor, Trojan and Greek genealogies, helpful information about story characters, ship terminology, and more. All these things help make the ancient world come to life.
The Teacher's Guide not only includes an answer key, but also many teaching tools such as a list of characters, discussion questions and helpful hints, test questions (with answers), notes, essays, additional assignments for further study.
The DVD set includes 5 discs (6 for the Iliad) with a video lesson for each "book" which includes a summary and discussion of background and culture and vocabulary. Often the instructor refers to the Iliad, which helped flesh out the story of Odysseus and his adventures. We appreciated this since we have not yet studied the Iliad.
There are 24 'books' with each lesson covering one 'book' – we work through 3 lessons each week. Our 16-year old daughter and 14-year old son read through the text individually  (Mom and Dad are reading, too!), then we watch the video together discussing what we learn and seeking answers to any questions we still have. After that my students work through the coordinating pages in the study guide. This gives a thorough view of the lessons, without being too overwhelming.
I was a little apprehensive about taking on this study, thinking it might be more intensive than we were ready for. I am pleased to share that we are working through the Odyssey with zeal! The translation by Samuel Butler is excellent. He uses language that is easy to understand while keeping the spirit of the original text. Our daughter struggled through a different translation of the Odyssey last year while studying ancient Greece – this translation has been so much easier to use!
The added bonuses of the DVDs and the guides with appendices give us everything we need to understand and process the lessons in this epic story. Memoria Press recommends this set for 8th grade curriculum.  For families who have not been exposed to Homer or Greek mythology, I would recommend high school level. We will be finishing our study of the Odyssey and continue this fall with the Iliad. My high school students' education has definitely been enriched by this curriculum from Memoria Press.

You can learn more about Memoria Press by visiting them on your favorite social media platform:
Memoria Press also offers curriculum choices such as First Form Greek Complete Set, The Story of the Thirteen Colonies & the Great Republic Set, and the 200 Questions About American History Set. Visit my fellow Crew Members to see what they had to say about all these sets – just click on the image below: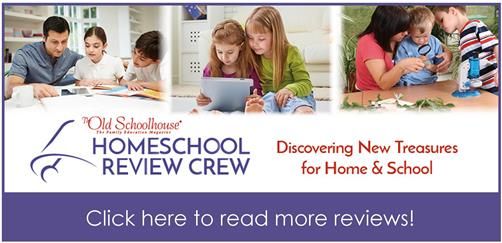 Save
Save
Save
Save
Save
Save
Save
Save
Save
Save
Save
Save
Save