Today I'd like to tell you about the Gospel Tracts and Evangelism Tools Sampler Pack from Let the Little Children Come. Children's hearts and minds are so open and eager to learn the Gospel message, it's a great thing to have resources on hand that help make it concrete. And fun!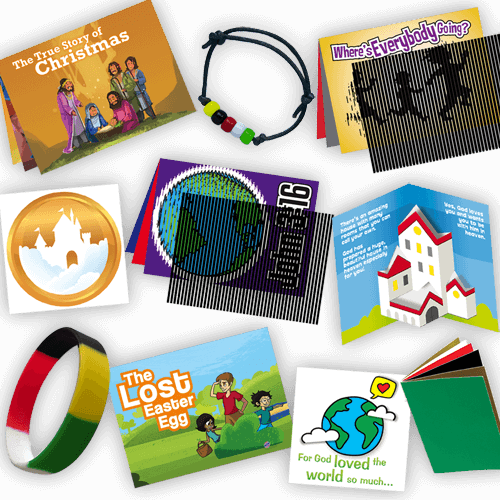 In this packet we received 10 different booklets/activities to share the message of Jesus in a way children can understand. They are colorful and engaging, printed on good quality, laminated paper and are appropriate for children pre-school age and up. The tracts and tools come with detailed instructions on how to use them.  There are a variety of things in the sampler kit – something for everyone (boys, girls, little ones, older children too.)
This sampler kit includes:
Animated Tracts – These were the favorite at our house. The booklets tell about the Good News of the Gospel using scripture and pictures. But the pictures are hidden until you slowly slide the plastic cover across the image. Then an animated picture magically appears – so cool!
Pop Up Tracts – Every kid loves opening a card to see the message literally pop up at them. This set included a couple of tracts that made the message come to life with pictures that popped up right off the page.
A Silicone Bracelet – Quite some time ago I began seeing the gospel message shared using colors. Yellow reminds us of heaven, black reminds us of sin, red reminds us of the blood Jesus shed for our sins, white reminds us that Jesus's death on the cross cleanses us from sin, green reminds us we can grow in Christ. You can see all these colors blended around this bracelet. Kids love wearing it and it can be an excellent conversation starter and a way to share their faith.
A Wordless Bracelet Kit – This comes with a leather string, the colored beads that tell the gospel message (like I explained above) and instructions on how to assemble. My 11 year old had not trouble putting it together and it's really cute! It is adjustable so can be worn by children of many different sizes.
Flip About Books – These were a lot of fun. With a fold and a flip you can tell the story of Jesus's love again and again and again. Four different images appear as you manipulate the little tract. The simple images are clear and easily understood even though it all seems to magically change and appear!
A Wordless Book – Using colors (see my bracelet description) anyone can share the Gospel Message.
It's been a lot of fun going through these little booklets and kits. My teenagers now have tools with which they can share about the love of Christ and what His life means to us. Whether they are babysitting younger children or helpers in a Sunday School class, these tools will come in handy. We will be sending these little goodies in my grandchildren's Christmas boxes this year. Their parents will slip one into each of their stockings for them to discover Christmas morning and then be able to share with their own friends. Let the Little Children Come provides tools to share the gospel with children, and you can check out a selection of them in their Gospel Tracts and Evangelism Tools Sampler Pack.

You can see how other families are using these when you visit my fellow Review Crew Mates – just click the image below!